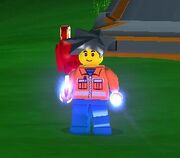 QuantumTwilightTorpedo, commonly known as Quantum, was Birdbot4444's level 38 F2P character. The wizard's whirlwind hat, the great longsword of lightning, and a red parrot were his favorite items. He was the F2P user with the highest stats: at the end of LU, he could get a total of 19 shield, 7 life, and 24 imagination.
Lucky Giveaway Items
Edit
The most interesting giveaways he was mailed:
5 jetpacks
3 dragon helm MKIIIs
2 Jolly beards
Imaginite Pack
Batlord items: helmet, shirt, and staff
Uber hammer
And of course, he was lucky...